The nobleist art is to make other people happy. – PT Barnum
Country mountain bed and breakfast offering Heirloom decor and unassuming comfort. Just the right touch of vintage combined with fresh, spacious rooms delights and relaxes. Discover why our guests return to The Edgewood Inn time and time again.
Edgewood Inn Wedding Venue Tour, Woodland Park Colorado from Edgewoodinn on Vimeo.
Newly Built Vintage Style
We built The Edgewood Inn in 2012 from the ground up.  Modern amenities and spacious rooms give you plenty of room to breathe our fresh mountain air. Elegantly crafted with a homespun heart, The Edgewood Inn welcomes guests to the Pikes Peak region.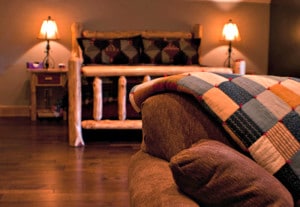 Five Guest Rooms
The Edgewood Inn offers 5 distinct bed and breakfast rooms in which to stay.  Each has a unique feeling. All are comfortable and relaxing. We have easy parking and arrangements can be made to park in our large garage as well. See more of our guest rooms. Call 719.687.0845 for reservations.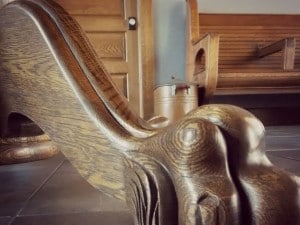 Our Inn was built in the 1900-1920 grand style.  Custom quarter sawn white oak woodwork, with transoms above the windows and doors beckons from a by-gone era.  Our Inn features charming details such as glass door knobs, hand scraped wide hickory flooring and period-style tiled floors.
Room to Relax
The Edgewood Inn is located at 9,250 feet above sea level.  We have a spectacular view of the north slopes of Pikes Peak. With over 3,500 square feet of wrap around decks, you can immerse yourself in nature and enjoy our beautiful mountains.  The stars shine brighter at Edgewood.  Really!  With very little light pollution our nighttime stargazing is second to none.  Relax each evening with a glass of wine, enjoy the sunset, then cuddle up and wait for the stars.
Plush Movie Theater
The skyline stars aren't the only ones that come out at night at Edgewood Inn.  We have a plush, private movie theater decorated in grand style.  With seating for 12, guests may enjoy viewing classic or modern movies anytime they wish.
Life's Most Treasured Moments
The Edgewood Inn is a popular wedding and event venue.  With large spaces on the deck, a large hickory dance floor, bar, and full catering kitchen we can provide the perfect setting for your wedding, holiday party, or corporate event.
Don't settle for ordinary when you can choose Edgewood. Interested in booking your event at The Edgewood Inn?  Call us this week to schedule an appointment.